Dear People, Sweet Friends, My Lovelies,
I thought I was a goner, and even that I might never write to you again!  Especially after my previous newsletter on "Being an Unstoppable Force for Good" boy did I get stopped! First I made myself sick, vomiting like crazy (triggered by my disgust, sheer revulsion over the grotesque spectacle of "the hearing" plus all the other horrible news), what a purge. Then I lost my new laptop (don't ever carry your leaking water bottle near a computer, they declared it dead in Kauai, now resurrected fully in Thailand), then I lost my newsletter (jammed the delete button on my keyboard) and now I made it back to life.    
I love you writing to me.  And this is why I am still here; catalyzing transformation! 
"At around 4:30 this morning I read something by Elandra Kirsten Meredith that induced such a profoundly strong reaction in my stomach and in my heart that it propelled me to do something and "be" someone that I wasn't at 4:29 a.m., to provide a solution I am capable of providing and follow a path that could well be summed up in the words you so beautifully expressed".
'Cos what else is there for me?  I am truly sick of the world of deception, in business and marketing, the focus on profit before people and medicine/sickcare that holds people hostage. I refuse to prioritize money making, I refuse to go along with our culture's cult of  valuing and craving wealth addiction.
Chiang Mai Thailand
 My soul (and inner child) love this land of proudly VISIBLE LOVE OF SPIRITUALITY with 33,000 temples, 400 in Chiang Mai. One was built by our dear friend Craig Maas, who died of cancer this year. Imagine  gathering one million children from 5000 schools in one place to sing about peace in English, what a miracle, you can see it on YouTube.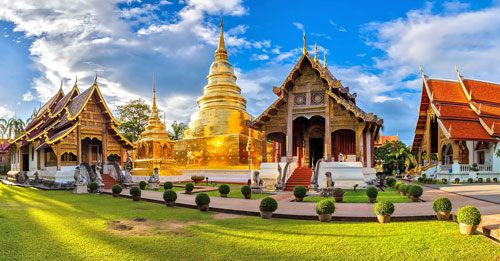 And the food! The massages! The best! To drool, sigh over, die for…  and today, and every day, eating the most incredible food, oh so unbelievably good!  Getting the world's best Thai massage, $5 per hour.
Have been coming here for 8 years seeking out the best of the best holistic health care, dental, medical, for promoting our  Ageless Living, and this is it.   
Magical adventurous and extraordinary experiences are coming our way daily!  Last night quite unexpectedly Antion appeared on stage belting out my favorite rock 'n roll (Johnny Be Good, Blue Suede Shoes and Spooky) to a crowd of thrilling screaming cheering videoing fans from all over the world, what fun!  The night before we were dancing salsa like crazy for a few hours with up to 80 people. 
In 2010 when I first experienced this Asian culture I wrote home to Antion, "OMG, I am in the land where spirituality is the norm! I love it here! I feel so AT HOME with all the images, huge statues, bronzes, pictures, everywhere – of a Yogi!  A Yogi? An icon of peace, a Yogi, the Buddha, sitting in full lotus pose meditating!   Here it's not weird and woowoo to be a Yogi;  to meditate;  to be vegetarian! Relief! I have never been the norm before… Wow, no longer feeling like a fish out of water (looking for the ocean, feeling my lost home in my spiritual longing which nobody understands, deeply lonely when I have every reason to be happy)… Somehow here in this simple smiling culture my whole life stares me in the face. It rises to meet me, and encourages me to rethink or re-assess my life. The culture feels innocent and gentle here; the  smiling genuinely from deep within, from the heart.
The heat, the people, the culture, the food, the temples, the little pagoda miniature "spirit houses"  in every business and home, all signifying to me  a cultural acknowledgment of a direct connection of caring  devotion to another reality…I just walked down the street alone, 8pm at night, feeling wondrously safe with 1000s of people shoulder to shoulder. Life vibrantly alive on the street, you can see everyone doing what they are doing, openly, sitting, eating, talking, maybe giving a massage or selling something, but not pushy, businesses not separate from day to day  family life,  all right there, seemingly living a safe sustainable life with  community all around, food security, no homeless, and lots of  laughter.   
Temples, massage, food and flowers on every corner, the airwaves are calmer and happier.  Monks chanting devotionally at 4.00am in the temples, the vibration is respected, purifying.  Hands together in that devotional greeting soul to soul,  called 'wai' (like Namaste), meeting palm to palm at the heart, a call to honor life, the specialness of a gesture inviting and celebrating true  connection, along with a beautiful heartfelt smile. It feels like it means,
'Here we are, we care for each other. We are not anonymous to each other, and we are as close to God/Goddess  and each other sharing our devotional acts, of placing fresh food and flower offerings at every moment. We can share and honor our spiritual elevation and communion, and share joy in knowing we are not alone in the universe but one with each other in all its mysterious meanings and manifestations…' Well, now I understand people who come here and never leave…"
 Even though you can tell that all this is being challenged more and more by western materialism, still, as my friend says, "A visit to Chiang Mai stands in absolute contrast to the diabolical practices and insane leadership that passes for culture in the West these days".- Bill Watson, East West Communications Consultant
And as this, a favorite quote expresses, "Buddhist economics must be very different from the economics of modern materialism, since the Buddhist sees the essence of civilization not in a multiplication of wants but in the PURIFICATION OF HUMAN CHARACTER." – E. F. Schumacher, " Small Is Beautiful: Economics as if People Mattered"
 As more of my friends are dying, life becomes ever so precious, ever more so, poignantly so, as there will come a time when I write my last, and say my goodbyes…  I like to live with that awareness now, as shamans/yogis  know how to live/die being friends with death, walking arm in arm.  
LOVE is Awakened Oneness Awareness, we are in this together, that's LOVE! 
Lots of love hugs blessings gratitude to you!
Elandra
PS. Next stop New Zealand, middle of December. Eager to get back to YOGA FUN with our gorgeous girls group, "When I think of yoga, I think of Elandra. She brings such fun, and has a huge knowledge of what postures and practices might bring us back into balance." – E. S.  Remember you can do your own self-empowering yoga any time anywhere, like right now, inhale deeply, breathe! Yoga and breathing consciously helps us in being present with ourselves. To feel ourselves and welcome ourselves as We Really are, with all of our – especially 'negative'- feelings, is so refreshing, so healing and loving. And the best sound healing is to give ourselves permission to cry and grieve and rage and scream in safe company!
"The human soul doesn't want to be advised or fixed or saved. It simply wants to be witnessed — to be seen, heard and companioned exactly as it is. When we make that kind of deep bow to the soul of a suffering person, our respect reinforces the soul's healing resources, the only resources that can help the sufferer make it through."- Parker Palmer
We, Antion and I – now 46 years married – wherever we go we love  sharing LOVE as AWAKENED ONENESS AWARENESS, with Yoga, Sacred Voice, Sacred Sites, Sacred Relationship, Healing, Love, Nature, Community, Transformation, Goddess, Love, Joy, and yay, Hugging!