Our Upcoming Travels, now till April 2020
Currently in Florida, (North Port and Gulfport) till 5 Sept, then Phoenix AZ till 26 September.
Kauai Hawaii for some weeks and then on to NZ in October.
Somewhere in there Thailand, and back to NZ till April 2020.
Then onto Florida and California… And spending more time in Florida next year.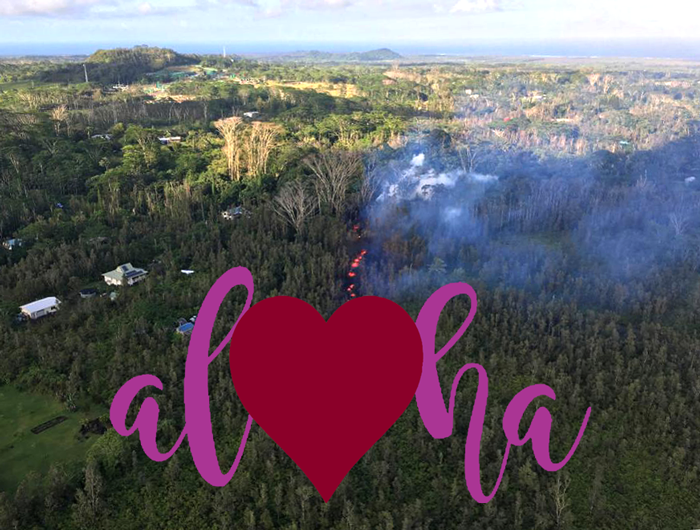 We, Antion and I, are on Kauai, in a beautiful place in the little town of Kilauea on the North Shore. It's the furthest island from the Kilauea volcano, but not far from our minds' meditating and monitoring the on-going eruption of Kilauea volcano on Moku o Keawe, Hawai'i's Big Island. 
The world watches in awe and unease as it continues unabated, in this isolated volcanic archipelago of Hawai'i which is the geographical center of the entire 'ring of fire.' The quantity of magma being conveyed onto the surface is a mindboggling estimated 3 to 6 million cubic meters per day, with a lava fountain maintaining heights of 50 to 100 meters.
The eruption and lava flow has destroyed houses plus many beautiful treasured public areas with hot pools and lake.
What will happen next? What do we make of it and how to make the best of it? I am in wonder remembering how we were initially called to Hawai'i by the magical sights and sounds, the music, the hula, the chant… and how my longtime dream began.
We, Antion and I, moved to Kauai at the beginning of 1993 and right away I had this riveting experience in the library. A book leapt off the shelf at me, opening to these words: "The world will turn to Hawaii as they search for world peace, because Hawaii has the key, and that key is Aloha."
I read the chant about "living As One, at Home inside, in peace, humility, unity, kindness, acceptance and oneness," by Pilahi Paki, Kahuna and Wisdom Keeper.  I took it as a message, promptly started teaching myself this chant, and within a few years some extraordinary things happened.
One day we, Antion and I (my husband, one time British rock 'n roll star turned Hawaiian musician/chanter) received a phone call from a Hawaiian woman who was Chairwoman of the Republican Party of Hawaii.
She said "
I have had a dream. I saw the two of you leading the opening ceremonies, chant and pule (prayers) for the Kauai welcoming inauguration of the new Governor. When I told my husband about my dream, he said, "No way, you must be crazy! You know that only a Kahuna (priest, wisdom keeper) of traditional rank and stature may preside over such a ceremony, not 'haole' blonde foreigners." Well, I had the dream again, and I know what that means. It means it will happen. So… will you do it?"
Oh my! We knew enough to know that the idea was outrageous, unheard of, and utterly impossible. We were 'haoles' (foreigners, literally 'without breath'). How could we be invited to chant when we had "no breath"? We were in shock at the very idea. After all, who were we, blonde, blue-eyed Englishman and a Danish-born New Zealander to do such a thing?
Yet it transpired as in her dream.  We walked in chanting, through the aisles, to the podium, where Antion led the 'pule', prayer, while the Governor of Hawaii and the roomful of some four hundred Kauai leaders leapt to their feet and stood, as if paralyzed, in a long stunned silence…
Afterwards I wondered, how did this Hawaiian woman have the enormous courage to break tradition and protocol? Yet I knew it was destined.
There was a prophecy that the ancient secrets would be so needed for the world's survival and evolution that traditional hierarchy, color of skin, blood of birth and ancestry of this lifetime were not prerequisites for manifesting an inner and outer world of Aloha consciousness, supported by the sacred chants and learning to live and share … "as One, at Home inside, in peace, humility, unity, kindness, acceptance and oneness." 
Later when I was being interviewed on the radio live, I noticed something new. I was no longer afraid of what might come out of my mouth; I didn't care what anybody might say or do in reaction.
I found myself teaching Hawaiian chanting, a no-no for almost everybody, but especially me, of non-Hawaiian blood, who therefore fears – who am I – a foreigner 'haole', white-skinned blonde, blue-eyed Scandinavian, outsider – to even be chanting sacred 'oli', and OMG publically on the radio?
But in that moment, I simply had to do it, say what I was saying, nothing else mattered. …
So I chanted   –
Akhahai e na Hawaii
Lokahi a ku like
Olu'olu ka mana'o
Ha'aha'a a o kou kulana
Ahonui a lanakila, Aloha e
This oli is about the divine nurturing qualities of Mother Earth the Goddess, the peace that all humanity may and can embody.
The first letter of each line spells as an acronym, A-l-o-h-a, and overall means, "living as one, in peace, humility, and oneness". 
I believe that it was given and is meant for EVERYBODY. The sounds are profoundly sacred, universal; this is international, universal, interplanetary, intergalactic, interstellar cosmic star knowledge and 'Kaona' that is needed for our times!
I believe the ancients left within the oral traditions encoded messages with specific application for our present times. I believe that meant to live from the heart, to become 'one with' and 'one with all', in every cell, with every breath, to live in holographic Knowing.
And to live in acknowledgment and gratitude of those who have gone before, our teachers and 'kupuna', ancestors. The doorway opens and closes by this power. 
We, Antion and I – 46 years married and teaching together – are all about gathering us to share  transformational Yoga, Sacred Music, Mantra, Meditation, Sacred Voice, Sacred Sites, Sacred Relationship, Goddess Healing, Nature, Community, Love, Joy, and yay, Hugging!
Stay in touch, I love to hear from you, but please know that I may not respond for a while (until I get my assistant!)
Waves of Aloha Love and Blessings,
Elandra
PS. More on Goddess, Sound Healing, Hawaiki and the role of women in the next newsletter and in my new blog coming.
Don't forget about Elandra's books
Elandra's journeys towards healing and empowering each other.
From Stardom to Yoga to Manifestation, Elandra and Antion have a unique perspective on living life in a modern and confusing world.