Goddess Workshops
Empowering Women to Embrace Immortality and Rejuvenation
Goddess Workshop Overview
The workshop includes information, handouts, demonstration, sharing, and discussion. Wear loose, comfortable two- piece clothes, bring your lunch, 2 pictures of yourself (one around 6 years, and one recent) and 2 sarongs for floor exercise.
Introduction & Setting the sacred space and tone with chant, meditation, breath and body exercises.
The Goddess/ Mother/Earth perspective and overall focus to:

Bring the feminine energy back into balance on the planet

Feel and reclaim the joy of embodiment

Connect with Goddess sacred sites

Reclaim healing powers

Activate priestess powers

Use these powers for peace in the world

Sexual energy used for healing, enlightenment, immortality – the work of Mantak Chia, and Toltec, Taoist and Pleiadian perspectives

Practice 2nd brain, breath meditation Connecting to the anatomy of the pelvis and feminine organs

Womb, and ovaries meditation with navel and orbit breath

Wisdom Chi Gung practise Energy and breath flows and their relationships

Rejuvenation – the body is made to live radiantly for 150 years-Aging Hormone-exercises- new information from Taoism

The sexual energy of the energy body

Energy of earth and nurturing organs, energy of water and sexual organs

Spleen, activating energy to hold spontaneous self-healing energy and power of Spleen – healthy spleen – change the DNA and nurturing will come through spontaneously.

Opening the energy gates at the navel For connection to unfelt feelings

5th chakra.

Bone breathing

Reflexology of Feminine organs

Nature of ecstasy, orgasm, and 'obstacles to flight'

Introduction to women's bodywork with demonstration

Embracing dark side, unacknowledged feelings, self judgement, critical inner voices, shame

Biology of Belief. Identify limiting beliefs, vows, oaths, thoughtforms, 'perfect pictures'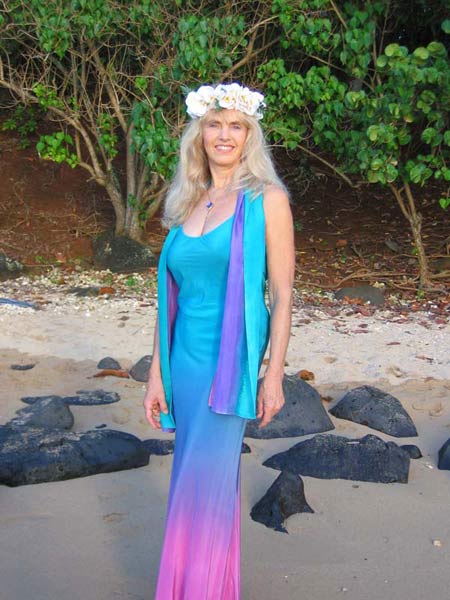 Elandra, internationally recognized healer, has been teaching in the Healing Arts for over 25 years. For 30 years wife and mother, and author of "Yoga for Health & Healing", Elandra is also the founder of Ku'u Makana Integrated Lomi- Chi Nei Tsang Healing Workshops. These include 'Women's Sexual Aliveness- Turning Your Pain to Power'.
Email me any time
and we'll create a time to talk.
Waves of Aloha love and blessings,
Elandra
Meditation Goddesss Power
Being ever more present in the Now.
"The purpose of sexuality is to create a doorway to higher realms of consciousness" — Bringers of the Dawn, Barbara Marciniak
"If you cannot face directly into your sexuality, You will never discover your true spirituality. Your earthly spirit leads to discovering your heavenly spirit. Look at what created you to discover what will immortalize you." – Taoist Teaching Manual
'Embracing the Goddess will open the Living Library to you and teach you the secrets held deep within the bosom of Mother Earth, for who is the Earth Mother if not the Goddess herself?' — Bringers of the Dawn, Barbara Marciniak
What women are saying…
What you taught is awesome, the belly rubbing and connecting with organs, I've been using it every day and helping others with great results…
Workshop experience erased years of pain, beautiful, touched me deeply…
I want you to know the workshop was extraordinarily powerful, I am still processing months later…
It took us a lot deeper than I had expected.
The breathing was incredible. I loved the high caliber very high consciousness women.
Strongest real authentic connection with Goddess. It was revealed in the faces of every woman there.
Easy to be honest and free, could talk so easily, intimate, safe, connecting, just being, not therapy.
Incredibly empowering event.
I just want to thank you so much for following your intuition to have the workshop and for guiding us through with such grace. Thank you thank you thank you for holding the space that says "its OK to feel!" This is so crucial. It is the crux of my healing in this lifetime.
For the last 7 or 8 years of my life, maybe longer, I have felt that my sexuality was a gateway to my spiritual path, but nothing in this world showed an example of where to channel this energy. Even the tantric workshops, etc., seemed too "Western" for me and always seemed partner-oriented. This sense of the Priestess, of the sacred and sexual in service to the Divine Mother has been a part of me for a long time and I have longed to meet a teacher to help guide me more in these modern times. I felt like I was coming home to that in our weekend retreat. Yes, mysteries were revealed, but I think the greatest secret is that the key is within our own bodies, where all the answers lie! I had the image that the organs of our bodies are almost like the buttons on a control board and you can steer your vessel through attention to various organs. Our feelings are the map or compass and the gateway through which we can travel further in/out. And what on our body is the most sensitive, the most feeling? The yoni, the ultimate gateway. And as we learned with the lomi wand, all of the organs are connected within that space, too. Wow! Thank you Elandra for all that you are and for being so OPEN. I continue to hear your voice, reminding, "Keep breathing." 🙂