The Power of Sacred Voice and Sacred Sound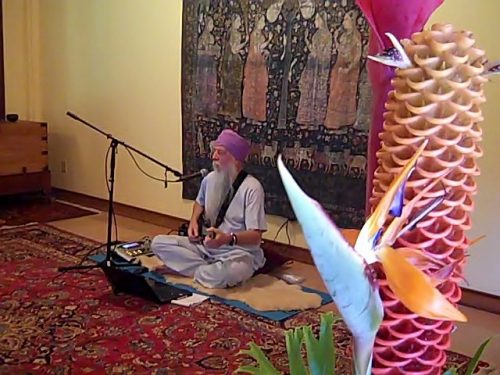 In Thailand I did a bioscan, with brain hooked up to scan my whole being. Reading printout showing allergies to high heated oil, particulates from traffic exhaust, mold, Wi-Fi, heavy metals/chemtrails, gmos etc. Suddenly … what's that? Ooh, how could a machine disclose my deepest secret?
"YOU ARE ALLERGIC TO MODERN CIVILIZATION."
Wait, haha, everyone knows how sweet I am, always acting all happy and nice, like a positive serene joyous being… and I am! But inside simultaneously I sometimes feel utterly repulsed, disgusted, absolutely horrified, enraged, powerless, helpless and hopeless at the hypocrisy, deception, exploitation and deliberate destruction going on this world.
So this is my solution. Kirtan is my antidote. Because the high high high frequency gets you high, gives you goosebumps, ooh, so delicious in your guts and healing in your cells. The sound is a portal; it opens interdimensional doorways to other exciting realms.
The highly developed sciences of sound healing known as Naad/Japa/Mantra Yoga use the sounds of the highest frequencies to evoke higher states of consciousness. The sounds of the syllables in the words have been used deliberately over eons of time to hold the highest vibrations of the Supreme Power/Creator, and entrain the body into a vibration capable of recreating this state of consciousness, cellularly restructuring it into the material state.
Continuous repetition of high frequency sounds causes the sound to start to descend through all the levels of your being, into your heart, sensations and reactions, to become embodied finally into the body's atoms, cells, DNA. Once it settles in the body, it repeats itself steadfastly to impart a new cohesive principle which helps heal and direct your life.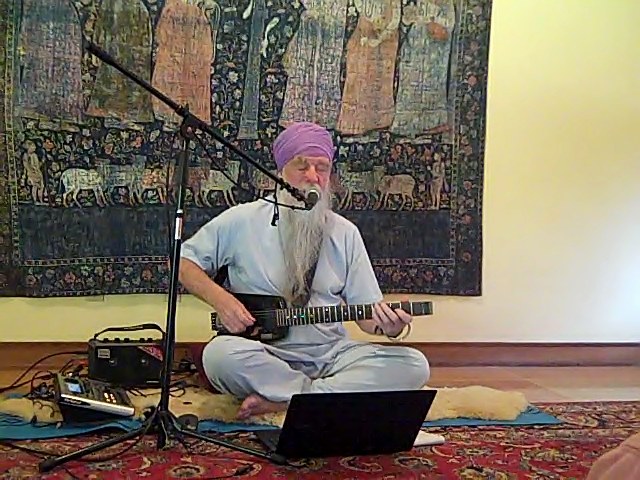 You feel it! THIS IS THE REAL WORLD, especially when enjoyed with others, synergistically raising the frequencies of the quantum field from the most material objects to the highest states of consciousness.
We know that everything, whether animate or inanimate, has its own particular vibration; a rock, fire, virus, water, an organ in your body, anything at all. They are the vibrations of the energy force that constitutes the object, its particular frequencies. 
States of consciousness have vibrations: love, anger, joy, plants, trees, nature, the elements, the fragrance of a plant etc. Fire has a sound; water, anger, even supreme bliss has a sound, the sun has a sound…. Love especially has a sound which may even be the sound of the Universe…
Sometimes the sound sounds you, the chant chants you! And your life, body, health is energized, rejuvenated. Your electro-magnetic field and nervous system is immunised to hold strong, no matter what is going on around you.
The effect and experience is that the whole being, body and soul, becomes revitalized, rejuvenated, aligned, healed, relaxed and enlightened.
In Hawaii voice and chant is in itself a sacred offering. When an oli, sacred chant, is performed as a Kahea (call) the intent opens a doorway into another dimension, inviting the honoring and valuing of voice as the key to transformation.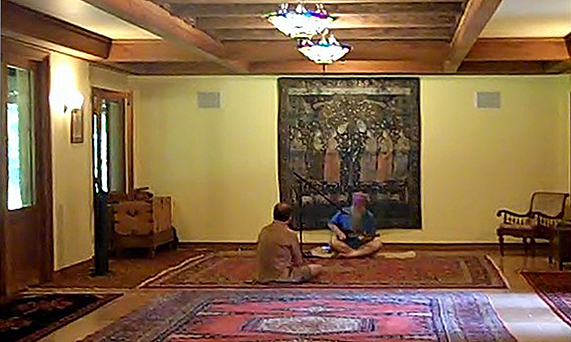 The fifth chakra of expression – of self, of truth, of feelings – and of all the other chakras, becomes a sacred site in itself, and a place of healing. And your life, body, health is energized, rejuvenated. Because your own spoken, sung or chanting voice causes your cells to grow and glow with joy.
Antion sings Kirtan every morning and evening, every day, wherever we are, and on Sunday mornings wherever there are temples. Yes, I am deeply blessed…
We are all pure transmitters, transformers. And hey, whatever is manmade with negative intent can be unmade by our voiced power! We are all sound healers, congratulations, I love you!
– Elandra
REMINDER
Sikh Sacred Kirtan from a 500 year Mystical Tradition with Antion Vikram Singh
Sunday, November 10th, 5.00-6.30pm
5-2719 Kuhio Hwy #101, Kilauea HI 96754   
Near the mini golf, Anaina Hou, behind Banana Joes and the Chocolate Factory
Phone Garden Ponds 808-828-6400
We, Antion and I – now 46 years married – wherever we go we love sharing LOVE as AWAKENED ONENESS AWARENESS, with Yoga, Sacred Voice, Sacred Sites, Sacred Relationship, Healing, Nature, Community, Transformation, Goddess, Joy, and yay, Hugging!