9 September, 2016
Dear friend,
Thanks for visiting my website/blog!  You can subscribe right here for more info as we are just now firming up details for our events (as on the fliers) in Hawaii in Sept, Oct, and Dec/Jan, and in NZ in Nov and Feb/March.
In the meantime you can look at the newsletters here or click inside the frame to see my  previous website with many photos which shows a lot about me and my (44 year married)  beloved, 60s rockstar guitarist and sacred musician and chanter sound healer  Antion of www.antionmusic.com.
Any comments or questions please email me at elandra@healthhealing.org, or call 1 206 701 6609, I love to hear from you, though I may not respond right away as we travel so much.
Mahalo, thanks, love and blessings to you!  Elandra
PS I would love to connect  with you on Facebook where I have pages  and  groups and am known for lively conversations!
PPS. More: Originally from Denmark Elandra  is  New Zealand raised  – graduate of Auckland University in Education, Psychology,  Philosophy, Counseling, Fine Arts, Drama,  Literature and three languages –  who moved first to London, then California and Hawaii, and  is now in New Zealand, Hawaii and Thailand.  Elandra lives an international lifestyle  with her longtime partner (60s rock star guitarist musician) Antion Vikram Singh Meredith. Together they present  workshops, retreats and trainings internationally:  Naad Yoga  Sacred Voice, Emotional Healing, Living Love Kundalini Yoga, Sacred Relationship, Music Concerts, Sacred Chant & Storytelling and much more, all  with a vision and purpose of rematriating our world into a higher  frequency New Civilization New Earth.
Antion aka Vic Briggs, 60s world renowned rock star with The Animals, and Elandra  (aka Kirsten Lindholm) are former  celebrities turned international yoga teachers, healers  and retreat leaders. Wherever they go they love to present inspirational multimodality entertainment, music, (rock n'roll, blues, jazz, Salsa, Hawaiian, Indian classical, Sikh Sacred Kirtan, singing, chanting), Yoga, Sound Healing and much more.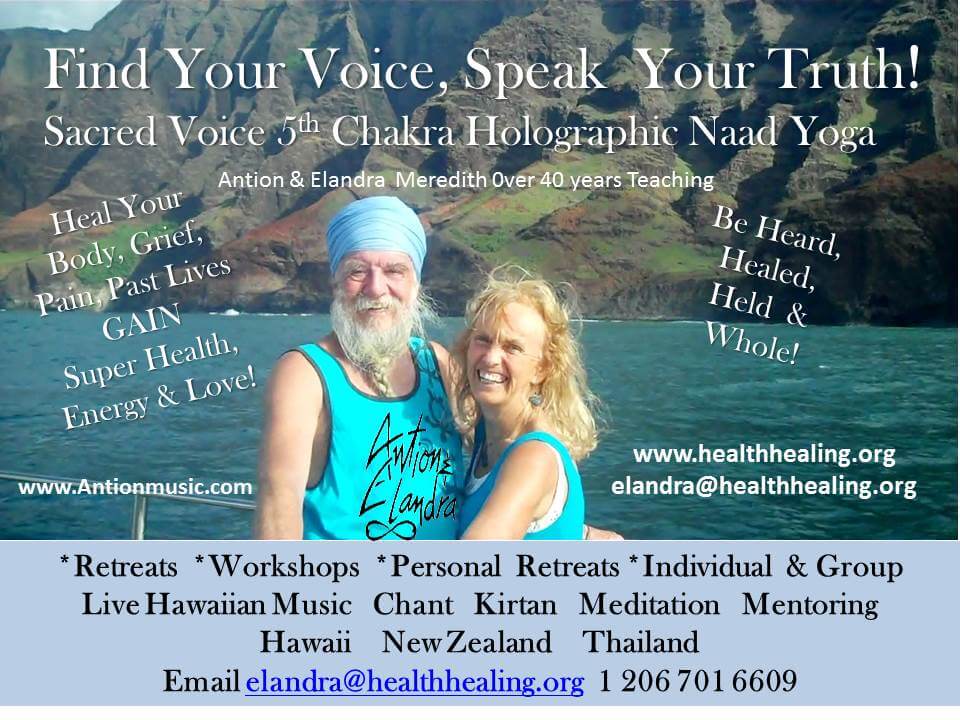 Elandra  is author of a  memoir book on super-conscious healing:  "From Stardom to Wisdom: Healing and Love Beyond the Spotlight"  http://www.amazon.com/From-Stardom-to-Wisdom-ebook/dp/B00CAGLIN0/
Elandra is founder, director and international teacher trainer of
Lomi Chi Holographic Healing
Online Elandra Health Healing Mentoring Program
Living Love Kundalini Yoga –  www.KundaliniYogaInternational.wordpress.com
Sacred Sites and Sounds Journeys
WOW! Walking Our Wisdom
WOW! Wildly Organic Women
More:
Elandra's yoga books: http://www.amazon.com/Elandra-Kirsten-Meredith/e/B00CB51DN0
Watch TV interview- story-of-love-yoga-and-vampires TV3NZ www.healthhealing.org
Sessions & Trainings:  http://healthhealing.org/aboutus/lomichi.htm
Book a (skype)  session:  http://healthhealing.org/1193/elandras-health-healing-sessions/
Testimonials: http://healthhealing.org/aboutus/healingbodywork.htm
Online Coaching – http://healthhealing.org/buy-now/
LinkedIn Professional Healing Practitioner/Trainer profile: http://www.linkedin.com/profile/view?id=92643477&trk=nav_responsive_tab_profile
Starnow Professional TV, Theatre & Film acting experience: http://www.starnow.com/elandrakirstenmeredith
YouTube Videos: Interviews, Yoga Teacher, Health Coach and Healing Teacher http://www.youtube.com/results?search_query=elandra+healing&aq=f
Facebook, LinkedIn, Twitter, and Skype – Elandra.Meredith