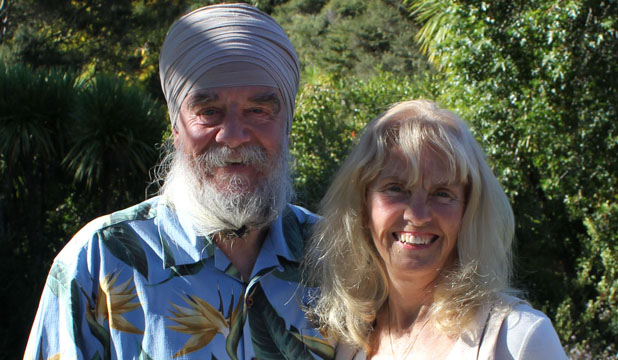 YOGA CONVERTS: Former lead guitarist of 60s rock band The Animals Antion Meredith, known previously as Vic Briggs, and wife Elandra, former model and actress, will feature at an upcoming yoga festival in Albany.
He was a rock superstar and she was a screen siren in a string of vampire movies back in the 60s.
Now living quietly on the Hibiscus Coast, the couple is dedicated to the ancient art of yoga after leaving high-flying careers behind in the late 70s.
Antion Meredith, formerly The Animals' lead guitarist Vic Briggs, and wife Elandra will feature at the inaugural Kawai Purapura International Yoga Festival in Albany tomorrow until Sunday.
The accomplished guitarist has worked alongside Eric Burdon, Dusty Springfield and the Beach Boys and channels his talent into what he calls "sound yoga" using sacred Indian music for spiritual empowerment.
Mr Meredith had a spiritual epiphany while working as a music producer in Hollywood.
"I became tired of the politics of the music business and the shallowness of it. You were only regarded for your success and not for who you really were as a person.
"It really started to get to me. I was using drugs a lot to cope and to have experiences of raised consciousness," he says.
"When I found yoga the need for drugs fell away and I found I could have those transcending experiences without them."
Mr Meredith then moved to London where he began teaching yoga, explored Sikhism and immersed himself in the study of sacred Indian music.
He says it was there he fell in love with "a gorgeous model and actress" who had become a regular at his classes.
They have been married for more than 40 years and hold two regular classes, Living Love Kundalini Yoga and Naad Yoga, at the Kawai Purapura yoga retreat in Albany.
The couple say yoga is a powerful tool that could be used to combat the prevalence of stress and suicide in New Zealand.
"It's not just a matter of turning your body into a pretzel or upside down," Mrs Meredith says.
"The body loves for you to love it and a lot of emotional healing can be done using yoga," she says.
They moved to New Zealand in 2008 having taught in the United Kingdom, California and Hawaii, and have found the yoga community here is not as "tragically hip" as overseas.
"In America it is very trendy and people are always looking around to see how everybody else is going and what yoga clothes they're wearing," Mr Meredith says.
"We ask people to close their eyes during our classes. It shouldn't be about that, it should be about being within yourself and finding spiritual truth."
Go to kawaipurapura.co.nz for more information about the Kawai Purapura International Yoga Festival.