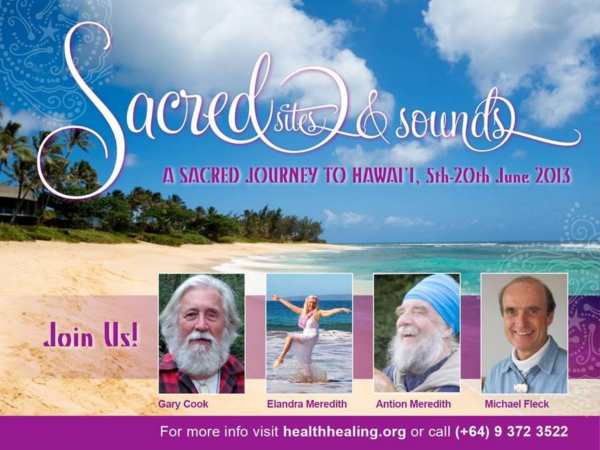 SACRED SITES & SOUNDS JOURNEY TO HAWAI'I
With Gary Cook, Antion & Elandra Meredith, and Michael Fleck
Between June 5th and June 20th we will be guiding a transformational journey through the Hawaiian Islands of Kauai, Maui and the Big Island.
We would love to have you join us!
We will be visiting culturally significant sites and places of power, beauty and healing. We will dive deep into the Aloha spirit and meet and share energies with special Hawaiian wisdom keepers.  We will  learn about the Hawaiian music, hula, chant and legends of the islands.  As we immerse ourselves into the vibrant Hawaiina ecosystem, there will be occasions for meditation, yoga, healing, massage, sound, song and dance linking us to the natural world and spirit realms. We will explore Hawaii's unique relationship to Aotearoa as well as other sacred sites around the Pacific.  We will be prepared for the life-changing experiences that are the hallmark of the Hawaiian experience – and delight in fun, joy and relaxation!
Gary Cook is a leading author and revered teacher on the mystic realms of  New Zealand and the South Pacific,  a respected researcher and explorer in the realms of the hitherto ancient secrets of Aotearoa, and producer of an acclaimed documentary  Voices from the Forest.   http://www.secretland.co.nz/tour-sacred-sites-nz-gary-cook /
Elandra Meredith is an international healer and leader of transformational yoga/health/healing workshops, founder of Lomi Chi Holographic Healing training  and a passionate proponent of indigenous cocreative consciousness that engenders transformation and miracles.  www.healthhealing.org
Antion, 60s rock star turned yoga teacher and inspirational guitarist and singer, is a master of Hawaiian music and chant, and an international  Naad Yoga and Sacred Voice teacher.  He and Elandra were Kauai/Maui residents for 16 years, and are now based in NZ while travelling internationally.   www.antionmusic.com
Michael Fleck designs and guides sacred journeys in New Zealand and Hawaii, and practices the interactive art of net weaving, as a resident of New Zealand and Hawaii for 40 years.  http://www.goodcompanypacific.com/8journeys.htm
You arrange your air travel to and from Honolulu, where you will be personally greeted by Michael when you arrive on June 4 or 5, Hawaii time. We arrange interisland airfares and ground travel via mini-vans, and all accommodation. In most places, breakfast is included in total cost. We each pay for our own lunches and dinners.
* US$3,200 (includes honoraria (koha) to local presenters
* 50% Deposit Due April 2 – Balance due upon arrival in Honolulu
* Maximum number of participants:  16  (plus journey guides)
* Please notify us with your expression of interest and we will send you a detailed itinerary. If you wish to extend your time in Hawaii  beyond June 20,  please let us know.
NOTE: Both Air New Zealand and Hawaiian Air currently have low fares between Auckland and Honolulu.
CONTACT: Michael at michael@aroha.net – phone 09 372 3522, or Elandra1@yahoo.com – 09 947 0404, (skype elandra.meredith-1 206 701 6609),  or Gary Cook  drcook1@mac.com – cell 027 443 7515