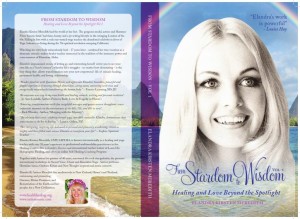 Elandra Kirsten Meredith had the world at her feet.  The gorgeous model, actress and Hammer Films 'femme fatale' had fame, beauty and a jet setting lifestyle in the swinging London of the 60s. Falling in love with a rock star-turned-yoga teacher she abandoned celebrity in favor of Yoga Ashram eco-living during the 70s spiritual revolution sweeping California.   
Watching her own body miraculously heal – 17 years later – catalyzed her true vocation as a shamanic miracle-maker-healer-teacher immersed in the tradition of the immense power and consciousness of Hawaiian Aloha.
Elandra's impassioned stories of letting go and reinventing herself  invite you to see your own life as a "hero's journey", whereby life's struggles – no matter how devastating – is the very thing that  allows transformation into your new empowered  life of miracle healing, permanent health, and loving  relationship.
"Readers familiar with Quantum Physics will appreciate Elandra's boundless, powerful and playful experiences of moving through dimensions, seeing auras, conversing with trees and energetically miraculously transforming the human body." – Forever Learning, MS, JD
"An awesome next step in my own health and healing research, writing and personal evolution". – Jo Ann Lordahl, Author, Princess Ruth: Love & Tragedy in Hawai'i "Amazing transformations with fun insightful messages and quotes woven throughout; traces important moments in the consciousness of the 60's, 70's, and 80's to now". – Rich Wonder, Author, "Merging with the Mystery"
"The ultimate love story – celebrity-turned-yogi, incredible storyteller Elandra, demonstrates that consciousness is the key to healing." – Lauren Orlina
"Her intriguing, inspiring life dedicated to personal and planetary awakening, reveals a mighty and love-filled soul; contact Elandra to transform your life!" – Sophie, Spiritual Teacher
Elandra Kirsten Meredith, CMT, LMT, BA, is known internationally as a healing and yoga teacher with over 30 years' experience as professional multimodality practitioner in five Healing Centers. She is founder, director and international teacher trainer of Lomi Chi Holographic Healing, and offers an online Self-Healing Coaching Program.
Together with Antion her partner of 40 years, renowned 60s rock star guitarist, she presents international workshops in Sacred Voice, Chant and Kundalini Yoga.  Antion performs Hawaiian music, Gurbani Kirtan and New Thought inspirational music concerts.
Elandra & Antion Meredith live meditatively in New Zealand, Hawai'i and Thailand, envisioning and promoting Oneness, Divine Feminine, and Rematriation of the Earth and her peoples for a New Civilization.  www.healthhealing.org  www.antionmusic.com