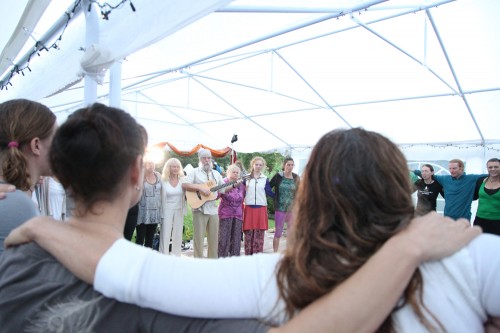 Our New Zealand News: Big Festival, Antion's show,  workshops, 10 free tickets:
What is happening in New Zealand is very exciting! We are having a great gathering of beloved wisdom keepers/walkers, and  Antion and I are presenting some wonderful workshops and music at Voices of Sacred Earth Eco-Festival at Kawai Purapura Retreat Centre from 8th-10th February 2013.
Antion is presenting a show on Friday night called A Man and his Music, more info below.
Kawai Purapura are offering 10 of my lucky friends a free ticket (valued at $59) to this amazing inspirational weekend. All you have to do is email your name and mention 'Elandra' to festivals@kawaipurapura.co.nz and the first 10  people to reply will automatically receive a free ticket.
Plus all entries will go into a draw for three prizes to be drawn at the festival.
The prizes are:
·         Two gourmet lunches at the festival
·         A free spa and sauna at the festival
·         A $30 voucher to spend at one of the stalls at the festival
For more info about the event see www.kawaipurapura.co.nz
Antion: A Man and His Music
A Journey through Five Musical Incarnations
Antion, internationally acclaimed UK born 60s rock star guitarist and multicultural singer chanter shares his journey through five musical "incarnations" comprising different genres of music. He is a world music phenomenon whose global journey has taken him from the London and Los Angeles Rock and Roll scene where he was a member of the legendary band The Animals,   to the Golden Temple in Amritsar, India, and to the Islands of Hawaii, New Zealand and Polynesia.
With heart and humor Antion presents his musical and storytelling gifts in a spontaneously created compelling rendition, juxtaposing   favorites from blues and rock 'n roll history with his beloved Indian music, sacred Kirtan, Hawaiian healing music and more. With consummate musicianship   he leads us on an interactive journey while sharing stories of the famous larger than life musicians and characters of the times such as Jimi Hendrix who called him one of his 3 favorite guitarists.
"My show is my life story  played, sung, and spoken, revealing my  fascinating musical influences and illuminating – in the light of my 50 years of extraordinary musical experiences-  the backdrop and characters of the times,  my massive   personal challenges and the spiritual longing and mystery that drove me forward to the joy of where I am today."
About Antion:  As 60s Rock Star Guitarist Vic Briggs, Antion was one of the leading musicians on the London scene and the lead guitar player for Dusty Springfield, Rod Stewart and Eric Burdon & the Animals. He jammed with many famous musicians, including Jerry Lee Lewis, Eric Clapton, Paul McCartney, Stevie Winwood and Jimi Hendrix. A key player in British psychedelia, he is recognized as the most musically adept musician ever to pass through the ranks of the Animals, with his skills as a guitarist and arranger   evident on the group's hits.
Capitol Records Hollywood, producer and arranger:  In the late '60s Antion became a producer and arranger in the recording studios of Hollywood Capitol Records, and in 1970, after a profound epiphany, he left the music business to pursue a spiritual lifestyle.
Singer and teacher of Sacred Voice, Naad Yoga, Sound Healing, Mantra chanting : Antion was the first teacher of Kundalini Yoga, and Naad Yoga, the yoga of sacred sound, sound  healing and mantra, in Europe.
Sikh Sacred Kirtan: Antion was the first non-Indian world renowned master singer of Sikh Sacred Kirtan. Now a legendary figure amongst 20 million Sikhs worldwide, he was  the first ever foreigner to achieve mastery of the complex ragas of Sikh sacred music  and  to sing in the Golden Temple, the most sacred shrine of the Sikhs in Amritsar, India.
Hawaiian Chant, Sacred Music and Ceremony: Antion is well known in Hawaii and commands an unprecedented respect. His outstanding dedication to sacred oli, chant, was acknowledged by an invitation to be the first westerner to have an oli written especially for him for a prestigious international competition in Hawaii. His mastery is  recognized  in invitations such as  leading  the opening ceremonies, prayers and chants for the Kauai inauguration of the Governor of Hawaii, an honor reserved for only Kahuna (of priestly blood lineage) thus breaking traditional protocol.
New Thought Churches and Sacred Music Festivals: Antion is known and loved for his inspirational music  of love and peace in the New Thought churches  and  Sacred Music Festivals  in the Hawaiian Islands, USA and internationally.
Workshops and Sessions: Antion's musical ear and consummate musicianship enable him to reproduce ancient sounds and imbibe cultures (to the extent that they believe he is one of them), all of which has given him a unique perspective to help those who wish to nurture and develop their own vocal expression.  Antion gives private Sacred Voice Naad Yoga Voice Empowerment coaching sessions, healing sessions, and teaches workshops in Sacred Voice, Naad Yoga, and Secrets of the Yoga of Sound.
CDs and Books: Throughout the four decade process of mastering one musical discipline after another, he has developed an unparalleled musical expression that holds you spellbound. He is a charismatic man, leader, speaker, healer and spiritual teacher dedicated to supporting others through his global appearances, concerts and teachings. He cherishes his love of Spirit through meditative daily disciplines including Tai Chi.  His CD One in The Goddess is so loved that it's frequently repeat-ordered (to replace the CDs worn out from non-stop playing!) Their books will be available through Amazon in March 2013:  From Stardom to Wisdom: Healing and Love beyond the Celebrity Spotlight and Once an Animal:  From Rock Star to Ragi
Together with Elandra, his healer celebrant wife of forty years they live an internationally mobile lifestyle presenting concerts and workshops around the world including Living Love Kundalini Yoga®, Sacred Sites and Sounds Journeys, and much more.
www.antionmusic.com   www.healthhealing.org
In Joy,
Elandra