MAGICAL HAWAIIAN WEDDINGS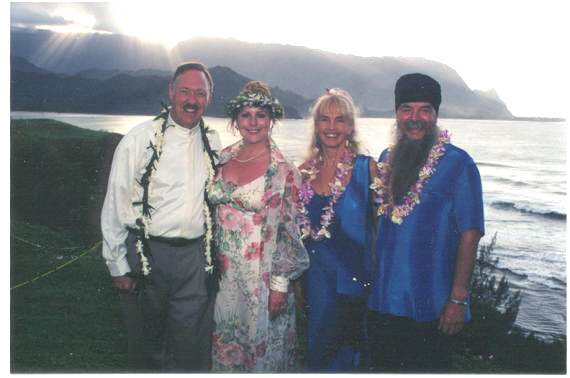 "Our wedding was awesome! Having a wedding in paradise would seem enough. But added to the beauty and magic of the Garden Isle of Kauai was a surprise of the highest order. Across the grass came Antion and Elandra, chanting Hawaiian songs of love and honor..as a prelude to a very special moment in our lives. The hardened engineer groom couldn't keep his eyes dry, and my wife to be was thinking 'this is exactly what I had hoped for.' Antion and Elandra went on to give us an experience that went way beyond 'getting married,' They became our family.
If you want the WHOLE experience, this is it!"
Lee and Patricia Carroll
Escondido, CA
Lee is the best selling author of the Kryon series of books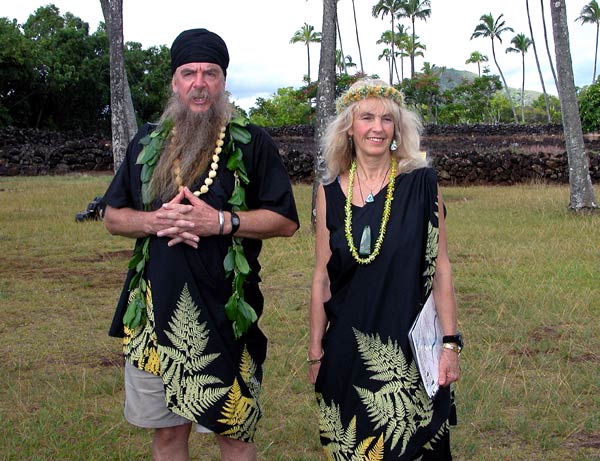 We, Antion and Elandra, have been minister/celebrants together, as husband and wife, for 28 years. In 1993, we came to live on Kauai, the Garden Island, with its spectacular scenery and sacred healing energy. Here, we have lovingly developed our own format for magical Hawaiian style weddings. We look forward to serving you with the wedding ceremony that fits your dreams. Be it Traditional, Contemporary, Non-denominational or a ceremony custom designed to fit your needs, we will bring our magic to an exotic and romantic location of your choice, to celebrate with you a ceremony that you will always remember.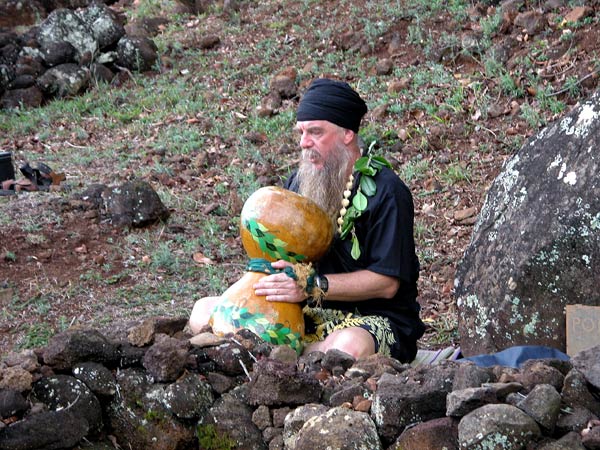 Sacred Sounds
The songs and chants of Hawaii have an incredible power to invoke loving energy and bestow blessings on the everlasting happiness and health of your marriage. Our commitment to our own spirituality, our commitment to each other and the incredible power of Antion's singing and chanting voice will create a magical atmosphere of Aloha The mystical beauty of an exotic, tropical location onKauai will charge your senses.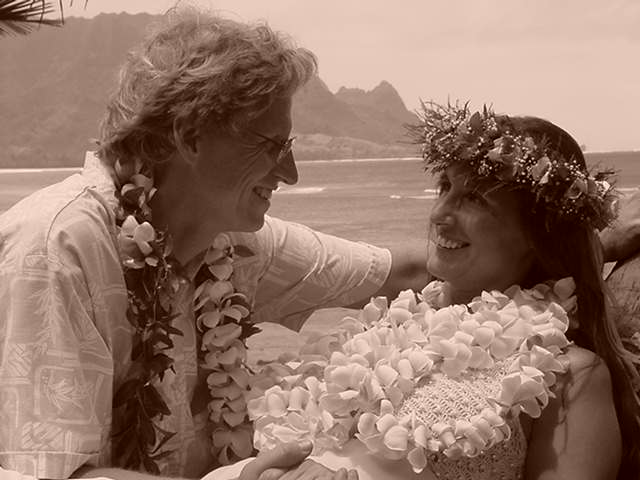 Dear Antion and Elandra,
Here are some of the photos I thought you may enjoy that the videographer took using his digital camera.
I am still elated by how special the wedding ceremony was for me.
it was a truly magical experience, and you two, had a huge part in making it be!
Thank you!!!!! You were GREAT!
For me.... having the leis put on me, was a truly awesome, experience - one of the highlights of my life.
Jay & Karen
As masters of the art of invocation and blessing through the ancient wisdom wisdom, we bring a very special focus to your very special day. At the same time, we work with you to develop your ceremony. You may design your own, work with us to create it, or allow us to perform ceremonies we have developed.
Call us and let us work with you in creating a unique personalized ceremony that will bring joy and romance to that most special day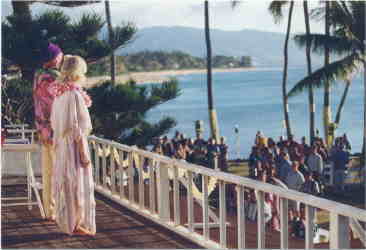 The personal information that follows is to give you a sense of the energy we wish to hold for you on your wedding day.
Antion, even as he toured the world as celebrity lead guitarist rock star with The Animals in the 1960's, developed a longing for a different form of life and music. His vision of a music to help change the consciousness of the planet has moved him to becoming the first non-Indian to sing the sacred Kirtan music at The Golden Temple, and the first non-Hawaian to enter the King Kamehameha Hawaiian Chanting competition with a composition written especially for him. When he sings Hawaiian music, even Hawaiians are amazed at the authentic Hawaiian sounds. He currently works to empower others with Voice Training and Healing, teaches guitar and chant, performs weddings and presents "Sound Celebrations" internationally. (Sound Celebrations are gigs which include chanting, singing, and dancing to Antion's guitar sounds- he was named by Jimi Hendrix as one of his favorite guitarists!)
Elandra, a former London actress and model, has devoted her life to being a teacher and healer in the field of relationship, marriage, sexuality, childbirth, midwifery, parenting, & education. She works as facilitator of transformational healing through Lomi Lomi massage, hypnotherapy, Yoga, Healing and Womens classes and Retreats.
Aloha Elandra & Antion,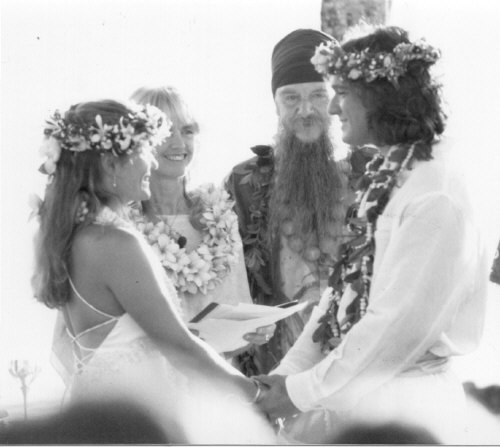 THANK YOU FOR MARRYING US!!!
We still get complements that it was the best wedding ever!! [It was!!]
Mike & Jenny


SERVICES ANTION AND ELANDRA PROVIDE
Our Basic Aloha Package Includes:
Team Wedding officiants
Personalized one of a kind absolutely unique ancient Hawaiian Chanting Ceremony with a special Wedding Chant
Personal Ceremony Consultation
Marriage License Appointment
Natural & exotic outdoor location of your choice
A special beautiful wedding song with guitar accompaniment by Antion, known in the 60's as one of the best guitarists in the world.
Depending on the size of your wedding, full services for your wedding including co-ordinating of flowers, food, & photography is also available. Or we will work with you if you wish to make your own arrangements or need referrals for these services.
Information about obtaining a marriage license in Hawaii
Saying "I do "on Kauai
Planning to tie the knot on Kauai? Congratulations! It's the perfect place to say "I do".

To be married in the Aloha State, you must obtain a Hawai'i marriage license.

Both the bride and groom must apply in person; there is no waiting period.

There are several locations on Kauai where you can get your license; call (808) 241-2498 to get the name and phone number of the marriage license agent nearest you. You don't even have to go to the county courthouse!

It is actually possible to get a license the day before the wedding or even on the day of the wedding, plus licenses are available statewide.

You can get a license on one island and get married on another.

The fee is $50 (cash only) and the license is good for 30 days.

The documents required of both the bride and groom-to-be are just a valid driver's license, assport or valid photo identification

The bride and groom must both be at least 18 years old to be married without parental consent.

No blood tests are required, and no paperwork needs to be completed prior to your license appointment.