Upcoming 2 Events in Maui Hawaii –  further details: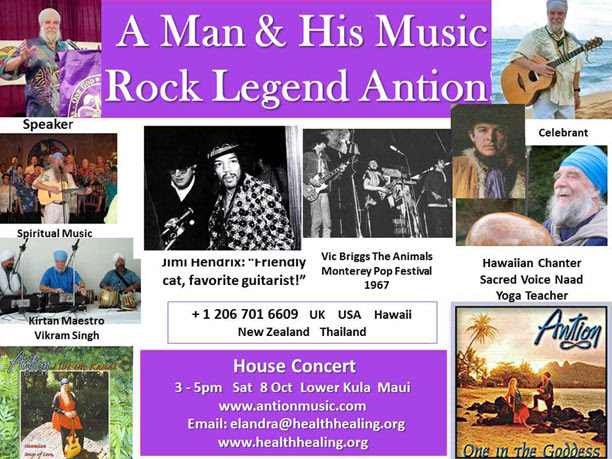 Antion, a Man & his Music –  House concert  8th Oct,  $10
Sacred Voice Naad Yoga –  Workshop 15th Oct,  $75
You can pay with Paypal using – anahola11@gmail.com, or at door by cash or check
When you confirm by email or phone the address will be sent to you (by email or facebook personal message).
In addition to the events of  8th & 15th Oct, Antion will be performing at Unity Church at 10 am on Sunday 9th in Wailuku,  and in the afternoon 4-6pm we'll be with Neto at Tiki Lounge – and dancing!
A Private House Concert
(30 seated) by personal invitation/ RSVP
Antion, '60s rock star, world music guitarist extraordinaire, shares his six "musical incarnations" with heart and humor, fun and joy, stories and inspiration, spanning four decades of adventures with celebrities
and spiritual masters of the times.
The splendid location in Lower Kula is the rural home created by Steve Haray and Eva Roberts. It features the magnificent art work and sculpture of Eva Roberts, and panoramic awe-inspiring views of mountains and oceans.
3pm – 5pm, Sat 8th October, 2016
We begin at 3pm with a tour of the house, art works, paintings and sculptures. Antion's show starts at 3.30pm
Bring: A cushion to sit on,your water bottle,
and donation of $10. Mahalo!
SACRED VOICE NAAD YOGA
Workshop 10am – 5pm Sat. 13th Oct. Lower Kula
Experience how to:
Embrace Techniques of Naad Yoga
Understand How to Use Japa Yoga (The Yoga Of High Frequency Repetitive Sounds) In Your Daily Life
Create Your Own Vocal Sadhana (Daily Spiritual Practice)
Use Your Voice to Balance And Energize Your Chakras
Train Your Voice to be an Instrument Of Inspiration For Yourself And Others
Use Hawaiian Sacred Chant as a Multidimensional Portal
Empower and Enjoy Your Own Authentic, Ecstatic True Spiritual Expression
Heal Your Throat Chakra
Free Your Holographic 5th Chakra Expression
Find Your Voice, Speak Your Truth
and much more!
For details,and to RSVP, email
elandra@healthhealing.org
Call 1 206 701 6609
Visit  www.healthhealing.org  www.Antionmusic.com
www.KundaliniYogaInternational.wordpress.com
You are subscribed to the Maui Vision Network group list to receive occasional e-mails about upcoming editions of Maui Vision Magazine, sponsored events and advertiser notices.