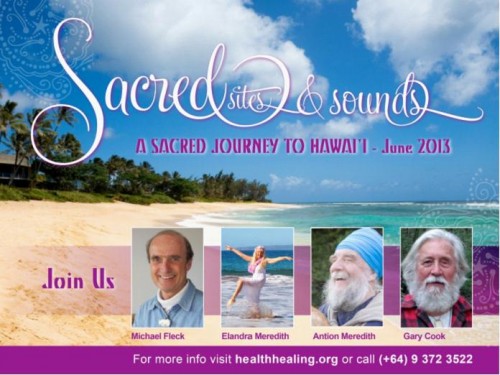 Gary Cook is a leading writer on the mystic realms in New Zealand and the South Pacific, and a researcher and explorer in The Secret Land project.
Elandra Meredith is a yoga teacher, medicine woman, and Lomi Chi holographic healer. She has been a Hawaii resident for 18 years.
Antion is a Naad Yoga and Sacred Voice teacher, and a master musician, from Sixties rock to Indian kirtan to Hawaiian chant. He has been a Hawaii resident for 18 years.
Michael Fleck designs and guides sacred journeys in New Zealand and Hawaii, and practices the interactive art of netweaving, as a resident of New Zealand and Hawaii for 40 years.
Between June 5 and 20, we will visit sacred sites and wisdom carriers on the islands of Kaua'i, Maui and Hawai'i. As we immerse ourselves into the vibrant Hawaiina ecosystem, there will be occasions for meditation, yoga, sound, song and dance linking us to the natural world and spirit realms. And we will explore Hawaii's unique relationship to other sacred sites around the Pacific.
You arrange your air travel to and from Honolulu, where we meet you on June 5, Hawaii time.
We arrange interisland airfares and ground travel via mini-vans, and all accommodation. In most places, breakfast is included in total cost.
We each pay for our own lunches and dinners.
Cost also includes honoraria (koha) to local presenters, guides, and wisdom carriers.
Approx. US$3,000 (to be confirmed)
Maximum: 16 (plus journey guides)
50% Deposit Due April 2 – Balance due upon arrival in Honolulu
Please notify us with your expression of interest before February 28 and we will send you a detailed itinerary.
You have the option of extending your journey beyond June 20 with more in-depth time on the Big Island. Please indicate this to us in your response to this notice.
NOTE: Air New Zealand currently has low fares between Auckland and Honolulu.